Chunghwa Telecom 中华电信 (Taiwan 台湾) Prepaid SIM Card

Plan Details
| | | | | |
| --- | --- | --- | --- | --- |
| Type | Data Allowance | CHT Wifi Access | Call / SMS Value | SIM Card Size |
| 5 Day | Unlimited 4G LTE | Yes | NT$50 | Standard, Micro, Nano (3-in-1) |
| 7 Day | Unlimited 4G LTE | Yes | NT$100 | Standard, Micro, Nano (3-in-1) |
| 10 Day | Unlimited 4G LTE | Yes | NT$100 | Standard, Micro, Nano (3-in-1) |
| 15 Day | Unlimited 4G LTE | Yes | NT$100 | Standard, Micro, Nano (3-in-1) |
| 30 Day | Unlimited 4G LTE | Yes | NT$400 | Standard, Micro, Nano (3-in-1) |
Registration needed due to local Taiwanese regulation; it is compulsory and mandated by Taiwanese law.
Registration will be done for you when you send us your details after your purchase.
Your card will only be usable after registration.
To register your SIM Card, we need the following details:
Passport
Official ID with a Photo (can be 11B/NRIC or Driving Licence or other Government Related ID)
ID Holder must be at least 20 years old at time of usage.
SIM Card Registration must be done at least 48 business hours prior to travel on our website – NO EXCEPTIONS.
Activation WILL be delayed due to late or inaccurate registration submissions.
Customers are advised to register the SIM Card as soon as they receive the SIM Card.
SIM Card validity does not start counting until arrival in Taiwan.
Each individual is only allowed to have one active SIM Card at any given time (1 Passport + 1 ID = 1 SIM Card)
Other Details
Automatic Activation – Plug in and Use
SIM Card comes in all three sizes (TRI-SIM): Nano, Micro and Standard SIM
5/7/10/15/30 Days Validity
Network Speed is capped at 4G LTE Service
Extension of SIM Card duration or stored value is not permitted.
Chunghwa Telecoms 中华电信 SIM Card will automatically expire after the number of days purchased.
Rate Tariff Details
Calling Another Chunghwa Telecom Mobile Number
NT$0.05 / Second
Calling Another Telecom's Mobile Number or Domestic Landlines
NT$0.1 / Second
SMS (Outgoing)
NT$1 / Message
Calling Singapore
(during Peak Hours – 8am to 10.59pm Monday to Friday)
NT$1.3 / 6 second blocks (Budget Rate 009)
NT$8.8 / second (Premium Rate 019)
Calling Singapore
(during Off Peak Hours – 11pm to 7.59am Monday to Friday, Weekend and Public Holidays)
NT$1.24 / 6 second blocks (Budget Rate 009)
NT$7.9 / second (Premium Rate 019)
What's Included / Delivery
SIM Card (Tri-SIM Sized)
Our Homemade Instruction Sheet and Usage Guide
Delivery and Mailing Information can be found on our Collection and Delivery Guide
Related Products
-18.18%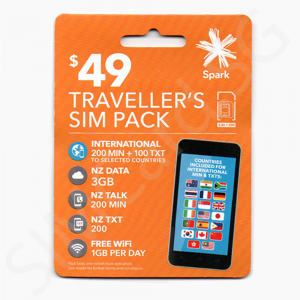 Out Of Stock
Your Cart
Browse Countries