Greater China 10 Day Data SIM Card
Plan Details
Plan Type
Network
Validity
Data Allowance
Calls / SMS
10 Days Data Only
Up to 4G LTE
10Days
4GB High Speed
Unlimited at 128kbps
Not Permitted
Please check phone compatibility before purchase.
Your phone must support TD-LTE Bands 39, 40 and 41 to use the SIM Card on China Mobile Network.
ALL THREE BANDS MUST BE SUPPORTED BY YOUR DEVICE IF USING IN CHINA.
Unlimited Data at 128kbps only starts after first 4GB is used.
The SIM Card operates on the following networks:
China – China Mobile / CMCC
Hong Kong – SmarTone
Macau – CTM
Taiwan – Chunghwa Telecom
Tethering is permitted on this SIM Card
10 Day SIM Card (4GB High Speed) works in China, Hong Kong, Macau and Taiwan
Automatic VPN
This SIM Card is not restricted by the Great Firewall of China.
You can use Facebook, Twitter, GMail without censorship on the data connection.
Phone Compatibility Warning for CHINA Usage
Your mobile device must support TD-LTE Band 39, 40 and 41 to use the SIM Card in China.
We will not provide any refunds if your phone is incompatible with the China Mobile network.
Please search for your phone model and compatibility with T-Mobile Network at: https://www.frequencycheck.com/models
Sample devices that are supported: Samsung Galaxy S7 and above, Samsung Galaxy Note 7 and above, iPhone 5S and above.
If you are using for Macau, Hong Kong or Taiwan, there is no problem with most 3G/4G devices.
Other Details
No Registration Needed
Automatic Activation – Plug in and Use
SIM Card comes in all three sizes (TRI-SIM): Nano, Micro and Standard SIM
What's Included / Delivery
SIM Card (Tri-SIM Sized)
Our Homemade Instruction Sheet and Usage Guide
Delivery and Mailing Information can be found on our Collection and Delivery Guide
Related Products
-18.18%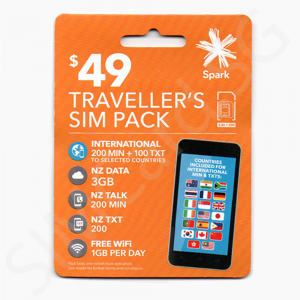 Out Of Stock
Your Cart
Browse Countries